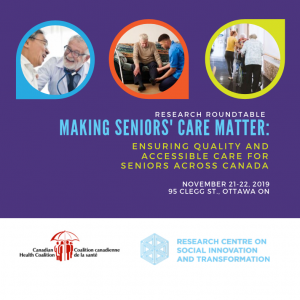 The Canadian Health Coalition and the Research Center in Social Innovation and Transformation at Saint Paul University will be holding the research roundtable Making Seniors' Care Matter: Ensuring quality and accessible care for seniors across Canada on November 21-22, 2019 at Saint Paul University in Ottawa.
This event will bring together leading and emerging researchers from academic, community and union settings to share knowledge on seniors' care policy and advocacy. This will be an opportunity to share promising practices and build partnerships across diverse disciplines and backgrounds.
The event is full. Please contact Amelie at amelie@healthcoalition.ca to have your name put on the waiting list.
Tentative Agenda
Thursday, November 21, 2019
Location: The Atelier at Saint Paul University, 95 Clegg St., Ottawa
6:30-8:30 pm – Keynote Panel
– Pat Armstrong, Distinguished Research Professor of Sociology, York University
– Colleen M. Flood, University of Ottawa Research Chair in Health Law & Policy; Director of the Centre for uOttawa Health Law & Policy
– Tamara Daly, Director, York University Centre for Aging Research & Education
Friday, November 22, 2019
Location: Saint Paul University, main entrance at 223 Main St., Ottawa
9:00 am – Opening remarks
9:15 – 10:45  – Promoting Equity in Seniors' Care
– Thrmiga Sathiyamoorthy (Wellesley Institute), "Cultural accommodations in long-term care"
– Vivien Runnels (University of Ottawa), "Understanding immigrant seniors' needs and priorities for health care"
– Martin Krajcik (EGAL), "Access to care for LGBTQ+ seniors"
– Josephine McKay (University College of the North), "Caregivers research project"
10:45 – Break
11:00 – 12:10 – Improving Working Conditions for Care Workers
– Alison McIntosh (Parkland Institute / CUPE-Alberta), "Long-term Care Work in Alberta"
– Lou Black (Hospital Employees' Union B.C.), "The Gap that Privatization Built: The Fragmentation of Working Conditions in B.C."
– Ito Peng (University of Toronto), "Working Conditions for Migrant Care Workers"
12:15 – Lunch
1:15 – 2:25 – Improving Access, Quality and Safety in Seniors' Care
– Paul Curry (Nova Scotia Nurses' Union), "Improving Homecare through Better Access to Nursing Care"
– Tanya MacDonald (Canadian Foundation for Healthcare Improvement), "The Appropriate Use of Anti-psychotics"
– Natalie Mehra (Ontario Health Coalition), "Violence in Long-term Care in Ontario"
2:25 – Break
2:45 – 3:30 – Moving Forward with National Strategies 
– Ivy Wong (National Institute on Aging, Ryerson University), "Advocating for a National Seniors Strategy"
– Ivy Bourgeault (University of Ottawa), "The Need for a Health Care Human Resources Strategy"
3:30 – 4:30 – Brainstorming Session and Wrap-up
Register here