Canada needs universal, public pharmacare now more than ever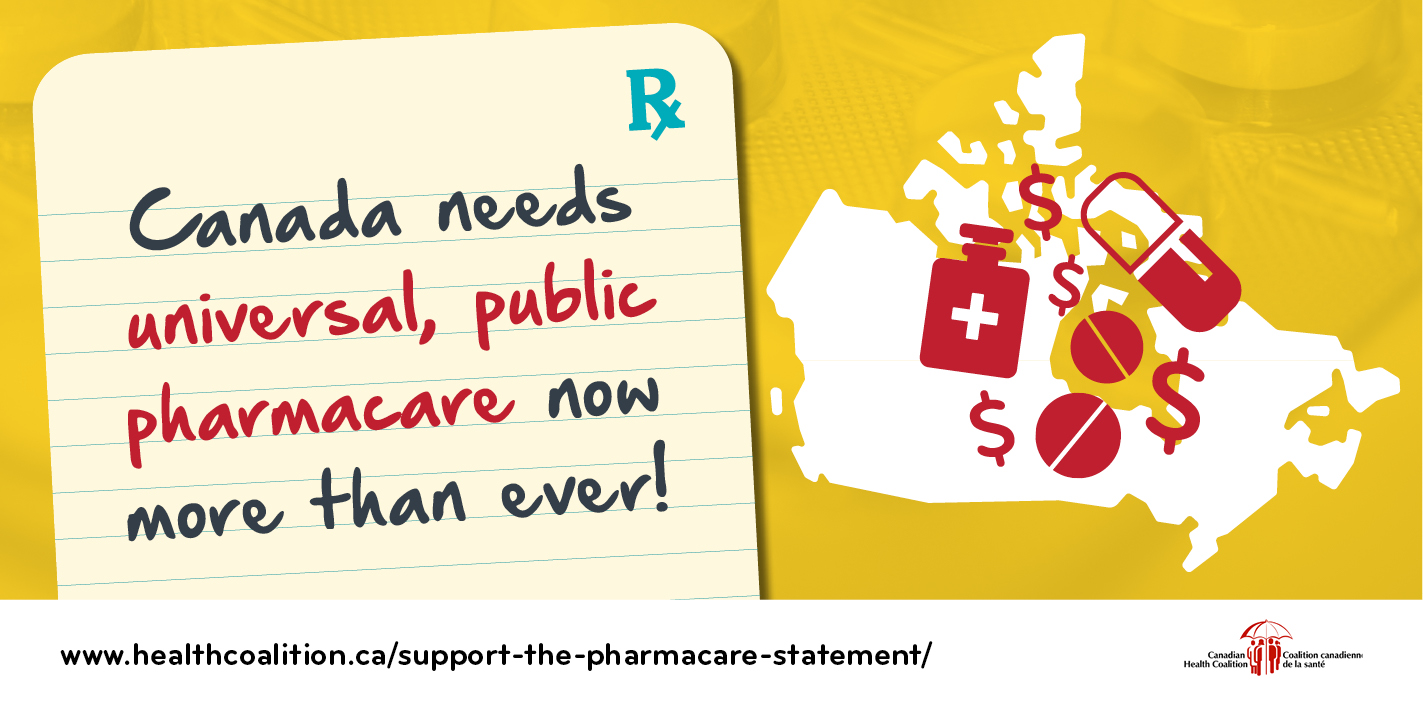 Ottawa, Ontario: Today, over 185 organizations from across Canada released a joint statement calling on the federal government to immediately implement universal, public pharmacare as part of its response to the Covid-19 pandemic. The statement is supported by a diverse coalition representing health care providers, non-profit organizations, unions, workers, seniors, patients, and the business community from coast to coast to coast.
"The need for universal, public pharmacare has never been more urgent," said Melanie Benard, the National Director of Policy and Advocacy at the Canadian Health Coalition. "Millions of Canadians have lost their jobs and their work-based drug plans during this pandemic. That means millions more people are now struggling to afford their medication. The government must take action now."
Before the Covid-19 crisis, nearly one in four households were struggling to afford their medications. One million Canadians were having to choose between putting food on the table and buying the medication they needed. These numbers have increased exponentially due to the mass layoffs triggered by the pandemic.
"So many Canadians are now struggling to make ends meet," said Benard. "If they skip their medication because they can't afford it, they may end up getting sicker and needing to go to the hospital. Our health care system can't afford that additional strain during the pandemic. We need to keep people as healthy as possible, and to do that we need universal, public pharmacare."
In a new poll conducted by Abacus Data for the Broadbent Institute, 72% of Canadians said that universal, public pharmacare is a very important part of the government's response to the COVID crisis.
Canada is the only country in the world with a universal health care system that doesn't cover prescription medication. Last summer, the Advisory Council on the Implementation of National Pharmacare led by Dr. Eric Hoskins recommended that Canada adopt a universal, public pharmcare program.
Given the current crisis, the new joint statement is calling on the government to speed up the implementation of the Council's recommendations. Benard explained: "We can't afford to wait any longer for pharmacare. Canadians need this program now to help them get through the COVID crisis. We're counting on the government to make it happen."
-30-
For more information:
Melanie Benard
National Director, Policy and Advocacy
Canadian Health Coalition
policy@healthcoalition.ca
(343) 777-6238