Consensus for pharmacare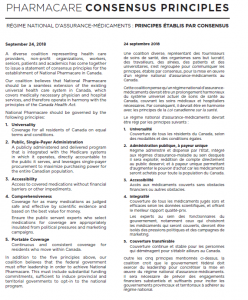 There is consensus among pro-pharmacare advocates about the principles that must underpin a national pharmacare program in Canada.
Over 70 national, provincial and territorial organizations agree that Canadian pharmacare must be a single-payer system that is universal, public, accessible, comprehensive, and provides portable coverage. The number of organizations endorsing these principles is growing by the day.
You too can join these organizations in taking a strong stand for pharmacare! The Advisory Council on the Implementation of National Pharmacare invites everyone in Canada to respond to an on-line questionnaire until September 28. This is your chance to deliver a message that helps win a plan for everyone.
The survey will take about fifteen minutes to complete and includes both multiple choice questions and space for you to comment. Find the questionnaire link & guide here.