National Seniors Care Strategy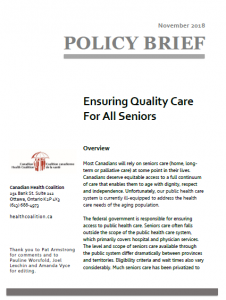 The Canadian Health Coalition is launching its campaign calling for a National Seniors Care Strategy.
Most Canadians will rely on seniors care at some point in their lives. Our public health care system is currently ill-equipped to address the health care needs of the aging population. We need a National Strategy to ensure that all seniors can access quality care, regardless of where they live in Canada. We must take action now to ensure consistent funding, standards of care and staffing levels across the country. All Canadians deserve to age with dignity and respect.
Read our new policy paper Ensuring Quality Care for All Seniors.