New report: We've Got This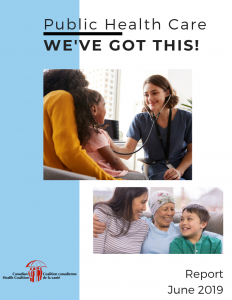 We have taken a close look at the current state of health care and put it all together in this new research paper.
Following years of funding crisis, health spending per capita has increased annually by an average of 1.7% since 2014. We have found that this is not adequate. Hospital budgets have been particularly constrained while investment is made in long-term and community based care. With hospitals struggling with inadequate funding, we have collectively been enduring longer wait times for emergency treatment and some surgeries. The wait times issue, along with the financial sustainability arguments are used by many to promote for-profit private health care.
Currently, there is a trial taking place in BC where a doctor and CEO of a private surgical clinic is trying to have the protections of public health care declared unconstitutional so that he can have the freedom to double bill and have private insurance help pay for it – in effect creating a market place for health care.
At the same time, spending on health care outside of our publicly insured system, that is for medication, home care and long term care, is growing and now accounts for 25% of health care spending. People without the financial means or access to private insurance are increasingly going without care.
In order to make public health care secure and to make the promise of the Canadian health care system genuine we need the federal government to assert a real leadership role to fund it fairly, keep it public, and expand it.
Read more about our campaign here.